let's do this! 

2023 YOGA TEACHER TRAINING IN JAMESBURG, NJ
200-Hour Yoga Teacher Training Program
This program is accredited with Yoga Alliance.
 🤍
Have you thought about becoming a Yoga Teacher?
Are you a yoga practitioner who would like to deepen your practice?
Then please read on to learn more about this special program.
Our Hope Yoga teacher training program takes you deeper into your yoga practice, your understanding of Yoga and most importantly, deeper into your own BEing.
Each weekend will consist of various topics including anatomy principles, asanas (poses), pranayama (breathing), meditation, philosophy and more.
As you continue with your own inner journey, you will notice and feel how your own practice transforms.
And you will develop and learn the skills to help, teach and inspire others who step onto the path of yoga.
That's exciting and rewarding!
You will learn how to teach yoga to people with different levels of strength, flexibility and learning styles. You will learn to inspire students, to use effective language, sequence intelligent and creative classes for different levels, perform hands on adjustments and more.
You will also learn about teaching specialty classes such as Prenatal, Restorative and Chair Yoga.
WHY DO THIS TRAINING PROGRAM?
Meeting one weekend a month will allow you to make time for this program as well as tend to the rest of the activities that you need to do in your daily life.
Let's face it, life can be hectic at times!
So dedicating a focused chunk of time to a transformational journey like this is powerful. It will bring about more awareness and perspective shifts, which will then extend into all the other areas of your life.
The way this program is planned out is intentional. 
You will learn from the ground up; from the foundational aspects and build upon that in all the various topics. You will get to soak in the material during our weekends together and then practice and apply and integrate throughout the rest of the month until we meet again.
Plus you'll have access to a private community where you can ask questions and connect with the other trainees throughout this entire program, 24/7.
Yoga is a living, breathing process.
There's no rush to get to a certain place, position or level. All will transpire exactly as it is meant to be.
By the end of this training, you will walk away with confidence, knowing you can teach an effective, creative and engaging yoga class.
We will guide you through the skills you need, help you practice those skills, and share with you our experience of what it takes to become the teacher you want to be. I won't tell you it's easy, because it's not. It takes commitment and dedication and a drive from within to take this journey. But one thing I can tell you from experience is, it's one of the best journeys you will ever embark on. 
LET'S DIVE INTO THIS TRAINING
Hope Yoga 200-Hour Yoga Teacher Training Certification Program:
An 8-month, 1 Module/weekend per month, transformational journey.
A Module equals 1 full training weekend.
The first 3 Modules are described below in depth as you have the option to purchase Module 1 separately, Modules 1 & 2 together or all 3 Modules together. 
🤍
NOTE: TRAINING CONTENT MAY VARY/CHANGE FOR EACH MODULE.
Module 1:
During this training weekend, you will be introduced to the history of yoga and the foundational principles of yoga poses. You will learn how to properly align your body in various asanas (poses) and understand the benefits and effects of each pose. Through guided practice, you will begin to develop strength, flexibility, and balance in your body.
Additionally, you will be introduced to pranayama, which is the practice of breath control. You will learn different breathing techniques that can help calm the mind, increase energy, and improve overall well-being. Pranayama is an essential aspect of yoga and can be practiced both on and off the mat.
This weekend will also include an introduction to meditation. You will learn a couple simple meditation techniques to start, that can help cultivate mindfulness, focus, and inner peace. Meditation is a powerful tool that can be integrated into your daily life to reduce stress, enhance mental clarity, and promote overall emotional well-being.
By the end of this training weekend, you will have a deeper understanding of the foundational principles of yoga poses, pranayama, and meditation. You will begin to tap into the knowledge and skills to incorporate these practices into your daily life, allowing you to experience the physical, mental, and spiritual benefits of yoga, no matter how long you've been practicing.
🤍
Module 2:
In Module 2, we will delve deeper into the principles of alignment, building upon what you learned in the first module. We will review and practice various alignment techniques to ensure proper form and safety in your yoga practice.
Additionally, you will have the opportunity to study anatomy and physiology and understand how it relates to yoga. This knowledge will help you better understand the mechanics of the body and how different poses can affect different muscles and systems.
As you progress in this module, you will learn about the various yoga pose categories, their energetic components, benefits and more. 
In addition to the physical aspects of yoga, we will dive a bit deeper into the exploration of breathing and relaxation techniques. These techniques will enhance your meditation practice, allowing you to find a deeper sense of calm and presence.
We will delve into the ancient wisdom of the yoga sutras. We will study these philosophical texts and apply their teachings to real-life situations. This will help you gain a deeper understanding of how yoga can be integrated into your daily life and how it can bring about positive transformation.
Overall, Module 2 will provide you with a deeper understanding of yoga, both on and off the mat. You will deepen your physical practice, expand your knowledge of anatomy and physiology, and explore the philosophical aspects of yoga.
🤍
Module 3:
In Module 3, you will dive even deeper into this ancient art and science of yoga. You will continue to learn important alignment principles that are specific to different types of pose categories. We will put this knowledge into practice so you can understand and see how body alignment can vary from one person to the next. This will ensure that you can help your future clients receive the maximum benefits from a pose for their unique body and help to avoid any potential injuries.
You will also learn how to transition safely and effectively from one pose to another. Smooth transitions are important in maintaining the flow of your practice as well as preventing discomfort as you move from one pose to the next. This will help to enhance the overall experience of your practice and your future clients as well.
Creating a sequence for your home practice is another key aspect of Module 3. You will learn how to design and structure a well-rounded sequence that targets specific areas of the body or focuses on certain aspects of a practice. This will allow you to tailor your practice to your individual needs and goals as well as your clients.
Lastly, Module 3 will deepen your pranayama (breath control) and meditation practice. You will learn more advanced breathing techniques that can help to calm the mind, increase energy, and enhance your overall well-being. More meditation techniques will also be explored, providing you with tools to cultivate mindfulness and inner peace.
Overall, Module 3 will help you gain a deeper understanding of alignment, transitions, sequencing, pranayama, and meditation, allowing you to enhance your practice both on and off the mat.
 🤍
$2997 Early Rate for entire training if purchased in full by October 1st.
[$3297 after Oct. 1st]
*If you begin your journey by choosing to start with Module 1, 1 & 2, or all 3, and you decide to continue on with the full journey of the 200-HR Yoga Teacher Training after you participate in the Module(s) you have chosen, you can pay the difference between what you paid for the Module(s) and the full price ($3,297) of the training program by the end of the last day of the training weekend you attend.
Keep scrolling down to see pricing options (including a 5-month payment plan) below as well as to read more about Modules 4-8.
NEW: 10-MONTH PAYMENT PLAN - SEE BELOW
🤍
PURCHASE NOW>
Training Hours:
We meet one weekend a month for 8 months (October 2023 through May 2024).
Friday: 6:30-9:30pm
Saturday: 8:30am-3:30pm or possibly 10:15am-5:15pm 
Sunday: 10am-5pm
(1-hour lunch on Sat. and Sun)
Oct. 20, 21, 22; Nov. 17, 18, 19; Dec. 1, 2, 3; Jan. 19, 20, 21; Feb. 9, 10, 11; March 8, 9, 10; April 12, 13, 14; May 3, 4, 5
*Times are subject to change
All The Skills You Need To Become A Confident Yoga Teacher
All The Skills You Need To Become A Confident Yoga Teacher
200 Hour Yoga Teacher Training Program Payment Plan
$340/MONTH
FOR 10 CONSECUTIVE MONTHS
*NEW INVESTMENT OPTION*
BUY NOW
One Of The Best Investments You Can Make For Your SELF
Modules 4-8
The last 5 modules/weekends of the yoga teacher training program will keep building on all the previous modules. These modules will focus on further developing your teaching skills, deepening your knowledge and understanding of yoga philosophy, and touching upon various aspects of the yoga business. 
During these modules, you will have ample opportunities to practice teach in a supportive and nurturing environment. Through constructive feedback and guidance, we aim to help you refine your teaching style and develop your own unique approach and voice as an teacher.
In addition to practice teaching, we will delve into more advanced topics such as working with diverse populations and addressing common injuries in yoga. This will begin to equip you with the skills and knowledge needed to adapt your teaching to different individuals and foster an inclusive practice for all.
Our Main Intention
Ultimately, our main intention is to support you throughout this comprehensive program. We are committed to listening to your needs, offering our full presence, and guiding you on your journey to becoming a confident and impactful yoga teacher. We believe that by nurturing your unique qualities and strengths, you will be able to make a profound and rewarding impact on those you are meant to serve.
Namasté,
gina
if you're



1. Looking to step onto a path that will accelerate your personal growth
---
2. Wanting to broaden your understanding of yoga beyond just the physical postures 
---
3. Loving the idea of cultivating meaningful and lasting relationships as well as being in service to others
---
THEN THIS TRAINING PROGRAM IS FOR YOU!

PURCHASE NOW>
Meet Your 200-Hour
Yoga Teacher Training Instructors
Gina Rafkind,
E-RYT 500, YACEP, CPC
Gina has been a yoga practitioner for over 25 years and a Certified Yoga Teacher for over 9 years. Her fifteen year challenge with anxiety lead her to yoga, and her developing passion for the art of yoga is what then lead her to become a teacher. She loves helping others connect to their inner radiant Self through movement, self-inquiry and awareness-raising perspective shifts. She has been involved in Yoga Teacher Trainings since 2016 and loves sharing what she knows with others who are ready to step onto this truly amazing transformational path.
Jen Serafin
E-RYT 200, RYT 500
Jen has been a certified yoga instructor for 5+ years. As a former elementary school teacher, she combined her love for teaching with her passion for yoga.  Jen believes that taking time for yourself, in any form of physical activity, is essential for a positive mind-body connection. She stresses the benefits of self-care as the first step to a healthy lifestyle.  Jen has been involved in Yoga Teacher Trainings since 2018.  Watching future instructors find their voice and unique style of teaching, all while gaining personal confidence, is something she finds extremely rewarding, (and which call for a celebratory doughnut.)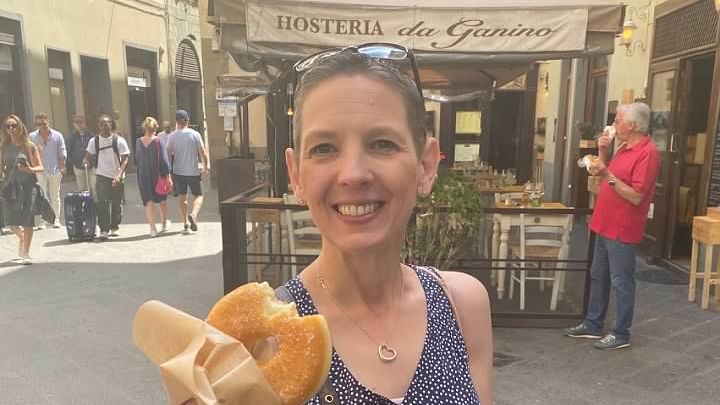 Krystal Loughlin
E- RYT- 200, Certified Yoga4Sobriety Instructor
Krystal came to discovering yoga after a battle with Lyme's disease. Looking for some physical and mental relief from the disease, she fell in love with how she felt after her yoga practice.  Taking what she learned on her mat into everyday life lead her to start her journey on becoming a Certified Yoga Teacher.  She has been teaching yoga for over 4 years now, and it is her passion to make yoga attainable for all ages and abilities. She thrives on bringing yoga to others to help improve their quality of life.  When she isn't teaching yoga, she loves traveling with her husband and two kids.  
Selena Sousa
RYT 200
Selena has been a yoga student since 2019 and a Certified Yoga Teacher for 3 years.  She was looking for a way to feel strong both physically and mentally when her path led to yoga.  Only after a few weeks of practicing, she made the decision to take Yoga Teacher Training (YTT) in order to deepen her own understanding of the yogic philosophy and postures.  YTT created a calling inside her to bring the love of yoga to more people.  The system of yoga in which she teaches focuses on positive attitude, alignment and powerful actions to create a fun, dynamic yoga experience in order to empower every individual. 
Kimberly Kubicke
Kimberly Kubicke helps folks harness their body's potential to thrive using yoga & Ayurveda. She has been studying and practicing yoga for nearly 30 years and Ayurveda for over 20 years. She learned the art and science of yoga and pranayama from Dr. Vasant Lad while studying at the Ayurvedic Institute. She graduated as both an Ayurvedic practitioner and yoga teacher. She went on to study pranayama as it relates to women's health, hormones and mental health with Dr. Claudia Welch. She has also studied pranayama in the Sri Vidya tradition. Aside from her initial yoga teacher training, Kimberly has spent over 50 hours in master trainings in yoga, pranayama and meditation.
FAQ SECTION


Hope Yoga's 200-HR Yoga Teacher Training Policies:
Hope Yoga's Program Passing Requirements
Attendance Make Up Policy
Attendance and Tardiness Policy
Required Number of Classes Taken Outside of Training Weekends